If you have not created a team please go
here
Once you have a team created your going to want to have team mates.
This guide will help you in the process of completing a team.
1) Once you have created a team, click on "team manager" in the user interface.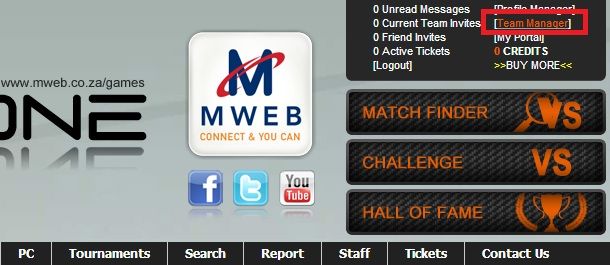 2) From here click on the button called "edit members"

3)From here you will be able to invite your team mates by entering their username. Ladders and Tournaments usually have limits so make sure you have checked the rules before inviting too many members.
4) If completed your team mate will be sent an Team invitation, it is then up to him/her to accept/decline.

That is how you invite members to teams.
Users are NOT allowed to be in multiple teams that are apart of the same ladder/tournament.
For any questions, comments or suggestions please post here.
http://forums.mweb.co.za/viewtopic.php?f=216&t=3639&sid=bf4cc0123981f53af77b16e7d317b162